In Rioja, winemaking, management, sales and marketing have traditionally been almost exclusively a man's world.  However, women in Rioja have broken through the glass ceiling and currently make several of Rioja's most iconic brands as well as manage some of the most prestigious estates.
Elena Adell (Pernod Ricard Winemakers Spain)
"Campo Viejo was built as a sustainable winery, even though 25 years ago, no one talked about sustainability."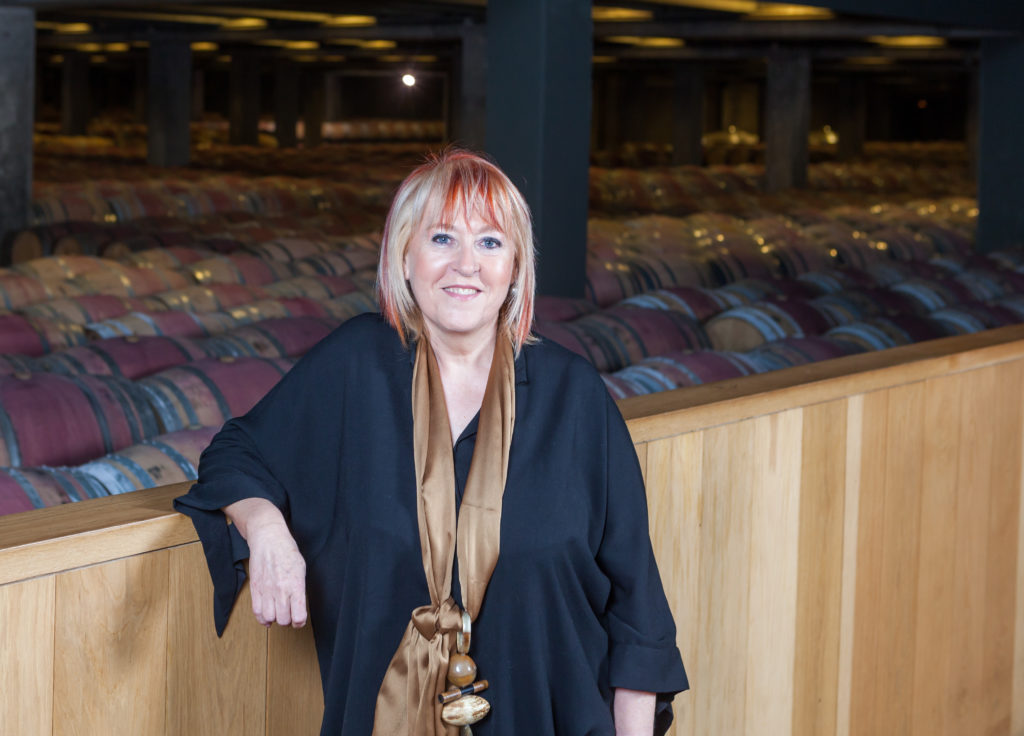 (Credit:  Pernod-Ricard Winemakers Spain)
Adell is the Chief Winemaker at Pernod-Ricard Winemakers Spain, with total responsibility at the group's three Rioja wineries:  Bodegas Campo Viejo, Bodegas AGE and Ysios, as well as Bodegas Tarsus in Ribera del Duero.
She is an Agronomist Engineer with 37 years of experience in Rioja. When we asked her what changes she has seen in Rioja during this time, Adell was clear. "There have been many technological advances in winemaking, but above all in viticulture.  When I started working here, there were no winemakers in Rioja vineyards.  People thought that work began in the winery.  Today vineyards are the key.  We manage some 7500 hectares of vineyards all over the region, around 11% of the total vineyard area in Rioja. We have an intimate knowledge of Rioja vineyards and we put that knowledge to work in our winemaking philosophy.
Our way of working, however, is the same for Campo Viejo, where we vinify around 16 million kilos of grapes, as it is at Ysios, where we work with 150.000 kgs of grapes. Control, rigor, and attention to detail are exactly the same."
The current Campo Viejo winery, built on a hill on the outskirts of Logroño, is a model of sustainability, although no one at the time used the word.  The winery is mostly underground, covered by native plants to blend into the surroundings.  Inside the winery, energy consumption is kept at a minimum, with energy, water and waste reduction working groups measuring output against goals.
Says Adell, "In our vineyards, we strive to farm with minimal intervention.  We test techniques in our own vineyards to show the growers whom we work with that they can grow grapes in a minimally invasive way. Our goal is for all the grapes to arrive at our wineries with zero residue."
When we asked Adell about the current state of affairs in Rioja, she was clear. "The wine trade is under threat globally.  Consumption in the best of cases is stable and it seems that there is a global movement to demonize the consumption of alcoholic beverages.  Wine is different, with an important cultural component.  I remember when I was young, there would always be a glass or two with a meal, just like there was a bowl of fruit, vegetables, meat, or fish on the table.  Wine in moderation is healthy."
María Vargas (Marqués de Murrieta)
 "We have been working for many years with a sole objective, almost an obsession: to make quality wines."
 "Wine tourism is the modern form of salesmanship where you're in touch with your customers with no one in between."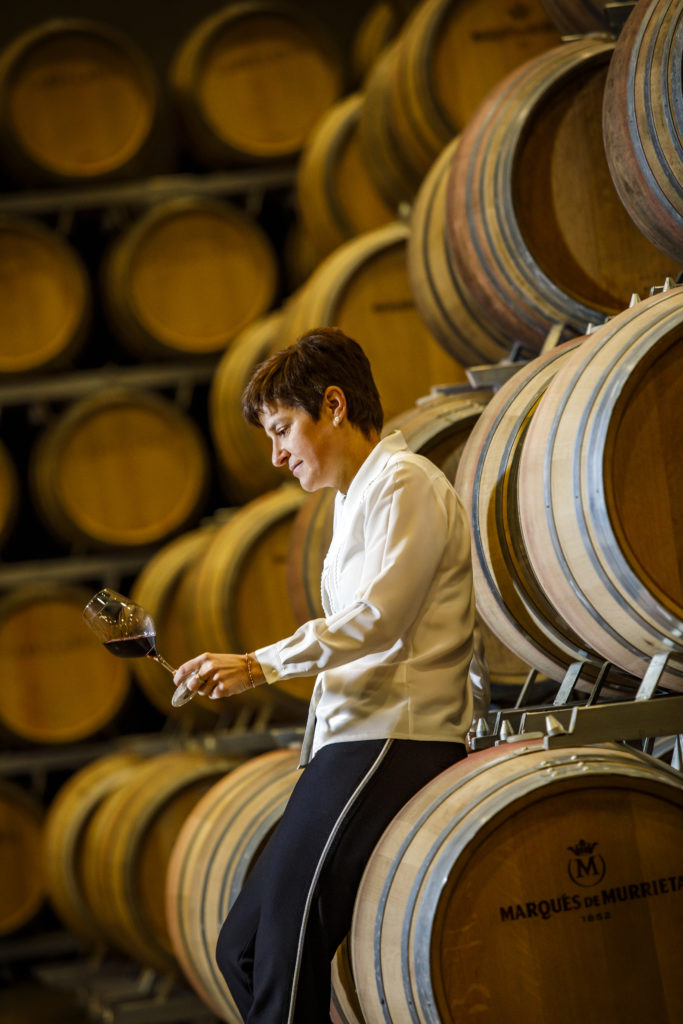 (Credit:  Bodegas Marqués de Murrieta)
María Vargas joined Marqués de Murrieta in 1995 at age 25.  She was promoted to Technical Director in 2000, quite a responsibility taking into account the 170-year-old history of the winery.
Vargas trained as an agronomist engineer who later studied for a degree in enology, a Master's degree in Viticulture, Enology and Wine Industry Management, and a Master's degree in Food Safety.
Among her many professional achievements are Best Winemaker in the World in 2021 at the Women in Wine and Spirits Awards 2021, Best Winemaker according to Tim Atkin in 2017, responsible for several 100-point wines by the Wine Advocate, a Wine Spectator award for her Castillo de Ygay 2010 as the best wine in the world and being named "Illustrious Citizen of Haro (her hometown).  Looking at the winery's collection of awards is a testimonial to Vargas' skill.
In addition, the winery has garnered several prestigious awards, including an International 'Best Of Wine Tourism' prize in 2023 for Architecture and Landscapes from the Great Wine Capitals Global Network. In 2015 the winery won a 'Best Of' award in the category of Art and Culture.
We asked Vargas what accounts for the inimitable style of Murrieta wines that have earned the winery so much international recognition.
"Undoubtedly it's our estate, 300 hectares planted to tempranillo (70%), Graciano (15%), mazuelo (10%) and a little garnacha and others.  Our white is made exclusively from viura."
"The median age of our vineyards is about 35 years, including vines planted five years ago as well as those almost one hundred years old. Each of our brands has its vineyard:  Marqués de Murrieta, Castillo de Ygay, Dalmau, and Capellanía. We are able to make wines with a strong identity and maintain it year after year because each wine comes from the same vineyard."
Q:     How has Murrieta evolved in the last fifty years?
A:      We have brought fruit to the forefront, we understand the concept of 'acidity' much better, oak is better integrated, and we have striven to achieve balance in all our wines.
When asked about the role of women in the Rioja wine business, María notes that today, many wineries and winemaking departments are led by women. Among her beliefs are that women's increasing role in the business is something natural.  Wine is all about sensitivity and tastes but not about the sexes.
When asked about the increasing importance of wine tourism in Rioja, Vargas believes that our region has a rich history and important wineries and these stories have to be told. "Wine tourism is the modern form of salesmanship where you're in touch with your customers with no one in between."
María José and Mercedes López de Heredia (R. López de Heredia Viña Tondonia)
"The best wine is in the future; it hasn't been made yet."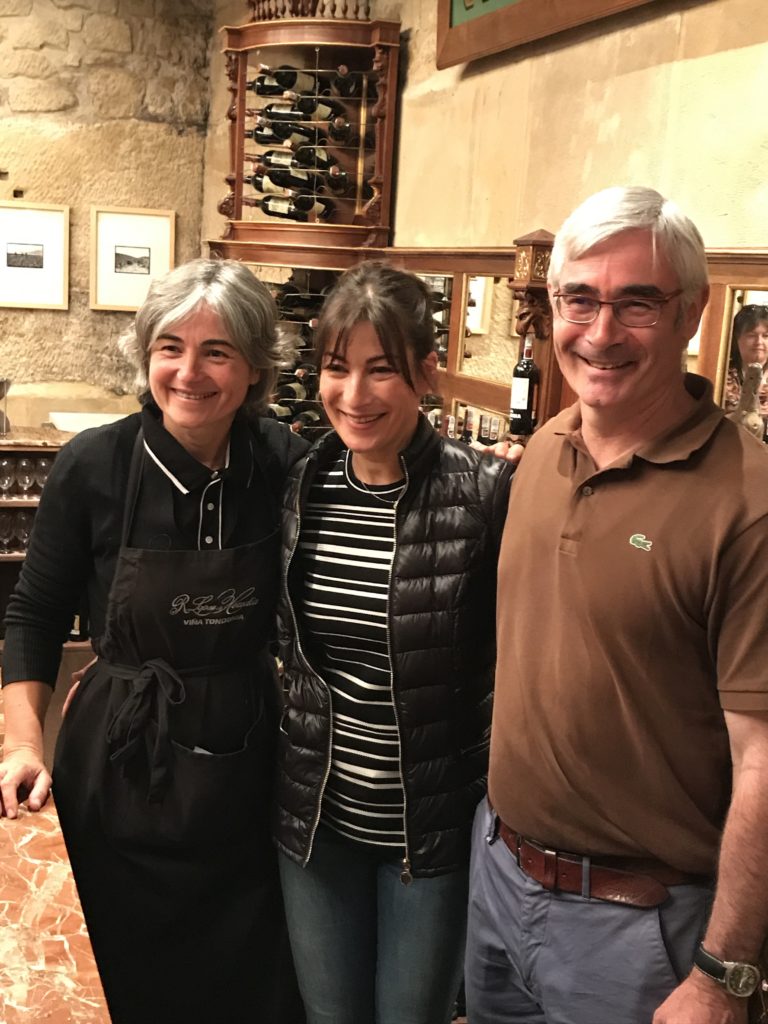 María José, Mercedes and Julio López de Heredia (Credit:  Tom Perry)
María José (managing director) and Mercedes (winemaker) belong to the fourth generation of the iconic López de Heredia family where the company philosophy is to strictly follow the playbook created by their great grandfather in the 1870s. This respect for tradition is reflected in how María José signs correspondence: "biznieta" (great granddaughter).  When asked about the style of López de Heredia wines, impervious to changing winemaking trends, the sisters like to say that "our maximum innovation is not innovating" and "we've been modern for over 140 years".
María José studied law at Bilbao's prestigious University of Deusto, but she also enrolled in Deusto's school of theology behind her father's back, reflecting her artistic, inquisitive and intellectual nature. She likes to say that studying theology helped to energize her study of the law.
In contrast, Mercedes the winemaker is an engineer with a scientific bent.  Despite being the radical opposite of María José, Mercedes shares her sister's love of tradition, applying it to winemaking.  She praises the use of large wood fermentation vats, natural yeasts, little sulfur dioxide, barrel aging for at least three years and long bottle aging to stabilize her wines, unfiltered bottling and a reliance on a vast underground cellar excavated at the beginning of the 20th century. There, the relative humidity is between 80% and 90%, and constant temperature year-round keeps the barrels tight, and reduces evaporation.
When asked about the role of women in the wine world, María José minces no words. "I believe that being a woman is no different from being a man, whether in wine or any other business."
The greatest proof of that belief is the María José's and Mercedes' commitment to grooming the fifth generation – three young women –  to run the business.
When asked about her favorite wine, María José likes to quote Pablo Álvarez, the president of Vega Sicilia: "the best wine is in the future; it hasn't been made yet".
Tom Perry, Inside Rioja