One of the first Woman in Wine was Françoise-Joséphine d'Yquem, born in 1768. At 17 years old she was orphaned and married. However, by the dawn of the French Revolution, at just 20 years old she was a widowed mother of two. As a noble woman, she was imprisoned twice during the revolution. But she managed to hold on to both her neck and her property, Château d'Yquem. She transformed the vineyard, bringing it to its current size of 113 ha. She built a new cellar, aged her wine at the vineyard at a time most wines were aged by wine merchants in the city, and introduced the practice of 'tries' to Sauternes harvesting. Transformational for the quality of the whole appellation.
The Countess
In 1692, Therese de Rauzan, inherited her father's Pauillac vineyard. Then, in 1694, when she married Jacques de Pichon Longueville, the property took his name Château Pichon Longueville but was never the less run by women of several generations whilst their husbands were busy being politicians. When the then Baron Joseph died in 1850, the property was divided between five siblings. Virginie Comtesse de Lalande took over the management of the sisters' share, creating a separate property, Château Pichon Longueville Comtesse de Lalande. Adding her name to differentiate it from her brother's. The two properties are known locally as Pichon Baron and Pichon Comtesse. In 1978, Pichon Comtesse became again under the ownership of a woman, May-Eliane de Lencquesaing. The Comtesse's legacy was still there, the chateau had not been lived in since Virginie's death in 1882, with furniture hidden in the attics from the occupation in the second World War.  Mme de Lenquesaing redesigned the estate and travelled the world as a passionate ambassador for Bordeaux wines. In 2003, she purchased Glenelly Estate in Stellenbosch, South Africa where she opened a new winery in 2009.
Feisty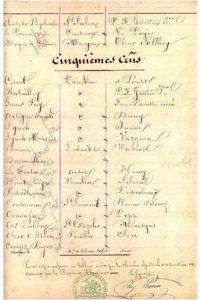 When 19 year old Baron Pierre Jules inherited Chateau Cantemerle in 1834, he was a minor, so his 51 year-old mother Caroline Josephine Francoise Josèphe de Raymond de Lalande stepped in to manage the property. Upon her son's death just ten years later, Caroline continued to run the property with her daughter. When a neighbour, started using the name Cantemerle to sell his wine, Caroline was having none of it. She challenged him in the courts and won her case. The first Bordeaux counterfeit case perhaps?
In April 1855, the famous Medoc Graves and Sauternes classification was drawn up based upon the sales prices of wines recorded over several vintages. Château Cantemerle was not included, our heroine was not happy. At 72 years old, armed with a history of sales prices she challenged the syndicate of courtiers and negociants until she obtained satisfaction. In September 1855, Château Cantemerle was included in the classification as a 5th growth. Today Chateau Cantemerle has a woman at the helm again. Since April 2021 Laure Canu runs the vineyard.
Chateau Margaux is owned and run by Corinne Mentzelopoulos, but she is not the first woman to be at the head of this prestigious vineyard. Pierre de Lestonnac is credited with creating Chateau Margaux, but it is his daughter, Olive de Lestonnac that we have to thank for what is perhaps the first 'Bordeaux wine Chateau'.
Château Margaux was just part of her business interests. Her great wealth allowed her to act as a banker to the great and the good of Bordeaux, for financial return but also political influence for her and her three husbands.  She lent money to farmers in and around Margaux and calling in loans helped further consolidate the estate.
Upon her death in 1652, at the age of 80, Olive, known as 'La Dame de Margaux', was the richest woman in Bordeaux. She is remembered more for her philanthropic work and gifts to the church than for her influence at her beloved Margaux.
From past to future
La Marquise Marie-Antoinette de Lambert des Granges inherited Château Sigalas Rabaud, first classified growth of Sauternes in 1951, then, as now, the smallest of all the first growths of the 1855 classification. Her granddaughter, Laure de Lambert Compeyrot is the sixth generation of the family at the helm of the property. She is as intrepid as her grandmother, introducing change and innovation to this historic property. Last year she obtained a Best Of Wine Tourism award for the accommodation offer she developped. She also created a new wine in her grandmother's memory. She wanted a wine that was bright, bubbly and attractive, to express the dynamic energy and personality of her grandmother. 2020 is the first cuvée of La Marquise, a Bordeaux Sparkling wine.
Women in wine tourism
Today women are spearheading wine tourism across Bordeaux, many of them are Best Of Wine Tourism winners.
Florence Cathiard is a pioneer.  In the early 1990s, after three years renovating Chateau Smith Haut Lafitte, she dedicated the chateau buildings to wine production and wine tourism. Her daughter followed in her footsteps creating the Wine hotel and spa complex Sources de Caudalie.
Some women inherit family wine businesses, others are new to the industry, but they are all innovating.
Generational
Since 1881 Château Du Payre has been passed down from mother to daughter for five generations. The current owner, Valerie has introduced Sophrology classes to create a state of relaxation before tasting the wines of the property – Best Of Wine Tourism in 2023 in the "accommodation" category.
Sixth generation Caroline Teycheney at Vignobles Jade has transformed Château l'Etamp into a beautiful guest house.
Estelle Roumage, the third generation wine maker at Château Lestrille, is constantly innovating. She champions sustainable viticulture and agro forestry and has introduced new product lines Crement de Bordeaux, and bag in box, opening a boutique in the heart of the village – Best Of Wine Tourism in the "Wine Restaurant" category.
At Chateau Cantenac in Saint Emilion Nicole Roskam-Brunot is working alongside her daughters-in-law, Caroline Perromat welcomes guests for picnics under the trees in the park of the family 18th century Château de Cérons and Francoise Baudet at Château Monconseil Gazin has even introduced an escape game from the château cellars. All former Best Of Wine Tourism winners who are still very dynamic and innovative.
New blood
Sally Evans created Château George 7 from a few hectares and a tractor barn in the hills of Fronsac. She created everything at her image, from award winning wines, to a full wine tourism experience. She was awarded of a Best Of Wine Tourism price in the "Architecture & Landscape" category in 2022.
The dynamic Martine Caseneuve created Château Paloumey in the Haut Medoc from scratch by replating an abandoned vineyard. They won a Best Of Wine Tourism award this year for their sustainable wine tourism practises.
Since 2010 Pauline Bich Chandon-Moët has taken Château de Ferrand into the 21st century with important and design-led renovations both technical and architectural for the team and visitors. Making it the perfect venue to show case part of the unique Bic Art Collection, Best Of Wine Tourism in the "Art & Culture" category this year.
These few examples are just part of the diverse initiatives that reflect the personalities of these dynamic women in wine. The spirit of their historical predecessors lives on.
Wendy Narby